Our Doctor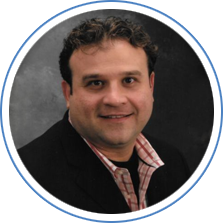 Ahmad Elsamad, MS, DPM, FACAS
Dr. Elsamad received his BS in Chemistry Health Science at the University of Central Oklahoma in Edmond, Oklahoma. He then went onto complete his MS in Biomedical Sciences and his Doctorate of Podiatric Medicine at Barry University, College of Graduate Medical Sciences, in Miami Shores, FL. After graduating in 2003, he completed three years as a surgical resident at the University of Utah Medical Center in Salt Lake City, Utah. Dr. Elsamad also completed a fellowship in Diabetic Limb Salvage at Lecco General Hospital in Lecco, Italy.
Dr. Elsamad is board certified by the American Board of Podiatric Surgery and has hospital affiliations with St. Catherine Hospital and St. Mary Medical Center. He's been selected as the Director of Diabetic Limb Salvage for both hospitals. Dr. Elsamad specializes in ingrown toenails, diabetic footcare, and rearfoot and forefoot surgery. He has been in practice since 2006.
Dr. Elsamad has been published on multiple occasions and has conducted various lectures. Please see below for the full list.
PUBLICATIONS
"Laser Tissue Interaction X: Photochemical, Photothermal, and Photomechanical" January-1999
SPIE-The International Society of Optical Engineering, Volume 3601, P 75-81
"Magnetic Resonance Imaging in Reflex Sympathetic Dystrophy Syndrome of the Foot." June-2004
LECTURES
Saint Mary Medical Center , Hobart , IN | Aug/Nov/Feb/08-09

"Diabetic Limb Salvage I,II, and III"

Saint Catherine Medical Center, East Chicago | Nov/Jan/March/09-2010

"Diabetic Limb Salvage I,II, and III"

Methodist Hospital, Merrillville, IN | March/2009
UPMA (Utah Podiatric Medical Association) Saint George, Utah | March/2005
Saint Mark's Hospital Family Practice Group, SLC, Utah | August/2005
MEDIA/NEWS ARTICLES